Pour Your Heart Out Wednesday: Baby Bug
Pour Your Heart Out Wednesday: Baby Bug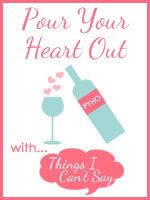 Lately the Baby Bug has hit me hard. Usually a day at school or borrowing my friends kids will cure it. But not lately. I think my biological clock has started ticking! I wanna baby so bad! We haven't even considered it though. First of all I have several health problems and the doctors have told me that 1. It will be really hard for you to get pregnant. 2. It won't help your health conditions any if you choose to have a baby. *sigh* What's a girl to do.
Then there is adoption.I have thought of that but there is one teeny tiny problem. Okay it's a major problem.
I
don't have a full time job right now and we have a hard enough time making ends meet with just the two of us. I can't even think about adoption or pregnancy for that matter till I know that we can support another life. Yes I know they say if you wait until your ready to have a baby you never have one but I think there is a big difference between being ready and being financially ready.
There is the whole social stigma of being childless women too. People look at you differently like there is something wrong with you because you don't have any kids.People have no idea that you live with this constant ache and longing for a child of your own. No one can relate to that feeling unless you've been through it. Christmas and Mother's Day are the worst. It seems like I just cry several times during those holidays. I am just pouring out something that has been on my heart lately.

Labels: babies, i, pour your heart out