Tribe Talk #1
This sounds like a really great idea to me so I've decided to try it. Thanks
Gay
for sharing.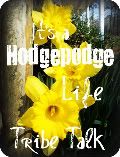 Think of it as a "meet and greet" for bloggers, increase your Tribe and let others do the same.
My 5 Picks for this week
1
. Nola at
Alamo-North
2. Chel at
Abiding Branch
3. Elizabeth at
Elizabeth Patch Sketchbook blog
4 Juliana at
A Blonde Walks Into a Blog
5. Single and Sane at
Single and Sane
I hope you will take time to visit my picks, comment them,
link-up and discover some great new blogs.Have fun!
Labels: tribe talk