Pour My Heart Out Wednesday:Feeling like the odd girl out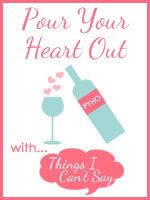 For those of you who don't know, I have been strongly discouraged from having children due to serious (even life threatening) medical conditions. Even thought I would love to have a child of my own. I've always wanted a little boy-just like his daddy. Okay so adoption right? Well after long serious talks my husband and I have decided (at least for now) that adoption isn't for us. I am still job hunting and in the present state of the economy we don't think it would be fair to adopt a child without being able to properly care for him/her.
Well, last time I was at my sister in laws she said something that really bothered me. We we're talking about having kids. She told me that I will get to the point where all I think about is having a baby and that I will do anything to have one. Having a child makes you complete and whole she said. I was speechless when she told me this. I mean she did struggle many years with infertility and finally had my beautiful niece KK. But really?! do anything to have one? And it'll complete me?
Her comment upset me. I continued playing with my niece but when I got home I cried my eyes out, I feel out of place. In social circles I am often left out of conversations merely because I don't have any kids. I have even gotten to the point where I don't go to a lot of social functions because I would be the only one there without kids. Thankfully I have a couple of wonderful friends who have been on a similar journey with pregnancy and make sure and include me in a lot of things and make me feel welcome.
Then there is the church. They talk about about a woman's purpose is to raise a family. So if I am unable to do these things, does that mean I am incomplete and not whole? Yes I do want to have a child but is it worth possibly giving my life for? Does this mean I am less of a woman? Less off a child of God?
Would what my sister in law said bother you? Do you think a women has to have a child to be complete and whole?