30 Summertime Vows
30 Summertime Vows-
Writer's Workshop Promp #1
It's hard to believe that June is almost half over! August will be here before I'm ready for it. So as way to get everything done that I want; I am going to make a list of 30 vowels that I want to accomplish this summer. I will give you an update of how many things I actually get done in August.
30 Things I Vow To Do This Summer
1. Get outside often. Even though it's stinking hot!
2. Go to the beach
3. Eat seafood as much as possible
4. Get my closet cleaned out and organized
5. Spend time with my niece Kaylin
6. Relax
7. Check out the farmer's market in the area
8. Scrapbook
9. Finish my spring cleaning. I know, I'm a little late. Better late than not at all though.
10. Read a lot
11. Go blackberry picking
12. Finish my sewing project from last summer.
13. Go swimming
14. Sleep late
15. Get back to my artwork (painting, drawing, clay)
16. Find new recipes and try them out.
17. Spend less time on the computer.
18. Hang the laundry out on the line.
19. Love, and enjoy my four legged babies
20. Take more photos
21. Dream
22. Laugh more
23. Freeze and put up fresh fruits and veggies for this winter
24. Have everything packed and ready to go in the event we have to evacuate due to a hurricane. I'd rather have and not need it than need it and not have it.
25. Spend more time hanging out with my hubby
26. Wash my car
27.Eat outside
28. Dance in the rain. I know it sounds crazy but it's so much fun!
29. Teach Vacation Bible School
30. Take naps
What vows would you make for the summer?
I got the idea for this post from the Writer's Workshop hosted by Mama Kat. You can find out more information about Writer's Workshop here.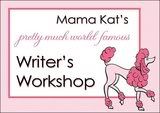 Labels: books, day to day, Writer's Workshop