Top 2 Tuesday-Things I can't live without
I am linking up with the Undomestic Momma to do Top Two Tuesday
This week She's doing the Top Two Things we can't do without. I had a hard time narrowing it down with just two! But here goes....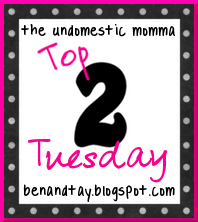 1. My Phone
I have to have my phone with me at all times. It's crazy I know. But I feel "connected to the world" when it's with me.I mean- I can stay connected with family and friends, take care of business and not to mention surf the web. All with one wonderful device. I can't function when I don't have it on me. My hubby calls it my "security blanket."
2. My mini-notebook
I am always writing something down. From my grocery list, to blog ideas, to my do list-you name it-I've probably written it. I have to write things down to remember them. I keep a note pad in my purse and car so I always have a place to write my ideas down.
What are your top two things you can't live without?
Labels: top 2 tuesday