Shapely Girl Week 2 Update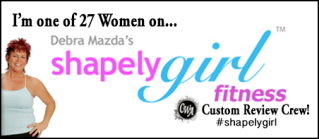 Today began my third week of participating in the shapelygirl fitness challenge. I am reviewing and working out to Debra Mazda's Let's Get Moving 2: Cardio Toning with Weights. Here's how things went last week.
Sunday-The Lord's day so I didn't work out
Monday- Great workout. I was finally able to do most of the cardo without having to pause the DVD for a break. :) I was so energized after the workout! I felt like the energizer bunny! I just kept going and going. The only bad thing about it was that I did have a hard time sleeping.
Tuesday- Didn't work out this day. I have work and the class on Tuesday so I don't get home till late. Didn't feel sore from the day before.
Wednesday-Very, Very stressful day for me. I wasn't going to workout this day but I decided to anyways. I'm so glad I did. The workout helped me relax and let go of my stress and feel more energized. I love how I am beginning to feel more toned and sculpted.
Thursday- Great day. Felt more energized and even cooked a healthy meal for dinner. Now if I can just cut down (or even stop) drinking sodas.
Friday-Worked out but didn't feel very well. I did what I could but I didn't over do it. I work at a school so it's likely that I might have picked something there.
Saturday-participated in the 2012 Walk Now for Autism Speaks in Houston. It was a great walk for a great cause. We walked a little over 2 miles and our team raised about $400 for Autism research/support :)
I continue to lose some pounds and inches (not as much as I'd like). Here's a link so you can check out my progress.
I am most excited about how much better I feel and how more tall and sculpted I feel.
**Disclaimer: As part of the CWA Blog Review Crew I received a copy of the DVD for the purposes of this review, no other compensation was given.